"The Cresting Wave: San Francisco Underground Comix Experience": 7/10-8/22, 2009
Anyone have a spare airline or train ticket to SF? Looks like a great show. Thanks to
ComicsDC
's
Mike Rhode
for this info!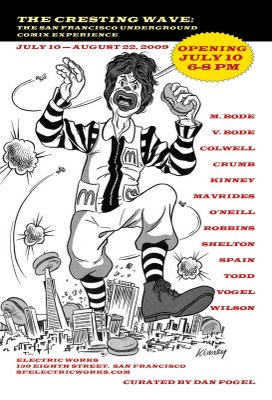 FOR IMMEDIATE RELEASE
Press Contact:

Dan Fogel

, comixpr[at]comcast.net

The Cresting Wave:
The San Francisco Underground Comix Experience
July 10 — August 22, 2009
Electric Works
130 8th Street, San Francisco, CA
www.sfelectricworks.com // 415 626 5496
Electric Works
is pleased to present
"The Cresting Wave: The San Francisco Underground Comix Experience,"
a group exhibition featuring underground comix artists from San Francisco, from the mid-'60's to the late '80's. Artists included are
Mark Bode
,
Vaughn Bode
,
Guy Colwell
,
R. Crumb
,
Jay Kinney
,
Paul Mavrides
,
Dan O'Neill
,
Trina Robbins
,
Spain Rodriguez
,
Gilbert Shelton
,
Larry Todd,
Randy Vogel,
and
S. Clay Wilson
. Culling work from private collectors and the artists themselves, guest curator, Underground Comix writer, publisher and historian
Dan Fogel
has amassed important work from each artist that spans personal drawings, well-known comix pieces, including covers and original comps, as well as other rare ephemera from the heyday of the San Francisco scene.
San Francisco was the birthplace of the underground comix scene in the mid 1960's: nowhere else on the planet was there such an concentration of talent, vision, and production. In a relatively short time, the artists who coalesced in the Bay Area changed the face of popular culture forever. Taking on issues of politics, race, sexuality, drugs, counterculture of the time, and intellectual property, these artists were able to push the bounds of propriety, "decency" and imagery more drastically than in any other medium of the era.
Complementing the robust gallery show, Electric Works will feature many other important pieces by the artist which will be available for viewing during the course of the exhibition in our flat files. In addition, Electric Works will be publishing limited edition prints, mini-prints, and a collaborative "jam" print featuring many of the artists in the exhibition, proceeds of which will benefit the
S. Clay Wilson Special Needs Trust
, benefiting their friend, who is recovering from serious injuries.
"Five years later? Six? It seems like a lifetime... the kind of peak that never comes again. San Francisco in the middle sixties was a very special time and place to be a part of. Maybe it meant something. Maybe not, in the long run... but no explanation, no mix of words or music or memories can touch that sense of knowing that you were there and alive in that corner of time and the world. Whatever it meant. ...
"So now, less than five years later, you can go up on a steep hill in Las Vegas and look West, and with the right kind of eyes you can almost see the high-water mark -- that place where the wave finally broke and rolled back."
-- Hunter S. Thompson,

Fear and Loathing in Las Vegas: A Savage Journey to the Heart of the American Dream

, 1971.
Postcard graphic:


Jay Kinney

, "Ronald's Rampage" (image for

City Magazine

), 1974
17 1/2 x 13". Ink, pencil, contact film on bristol board.
Labels: art, Bode, D Fogel, D O'Neill, G Colwell, G Shelton, galleries, HST, J Kinney, L Todd, P Mavrides, R Vogel, R. Crumb, San Francisco, SC Wilson, Spain, Trina, underground comix